Hello all! It's been a few months, and SO much has been going on! I'll give a few updates, a couple encouraging stories, and some prayer requests. Please pray for us, and consider supporting us financially if you are not already doing so. If you have questions or want to join us on an outreach, send me a message at dan@yoursoulmatters.org. Thanks, and hope to hear from you!
A Powerful Testimony and Learning Spanish
The Old Fisherman's wharf on the waterfront in Monterey continues to be one of our best outreach locations.  A few weeks ago we were joined by our friend Nelson, who also joins Brenten and I for our weekly online Bible study and accountability group.  He joined us for outreach, and since he is blind, making it difficult for him to hand out tracts, he gave his testimony following one of Brenten's messages.  It was quite a testimony!  Nelson was involved in gang activity when he was younger, and lost his sight due to gang violence.  Specifically, he took a bullet to the brain from a .357.  He talked about how that event helped lead him to Christ.  It was quite an encouragement!Since Nelson is bi-lingual, after his testimony he translated for me  while I gave a sketch message.  There were many Spanish-speakers walking by, and the translation clearly caught their attention. One man stopped with his family to listen, and was so touched that he was crying by the end.  Nelson and I were able to pray with him.  I've been trying to learn Spanish, and this was just a reminder what a valuable tool a second language can be, particularly  in our area.  In San Jose alone the population is nearly 1/3 Hispanic.  Please pray for the man who stopped for prayer, and for perseverance for me as I continue to study Spanish.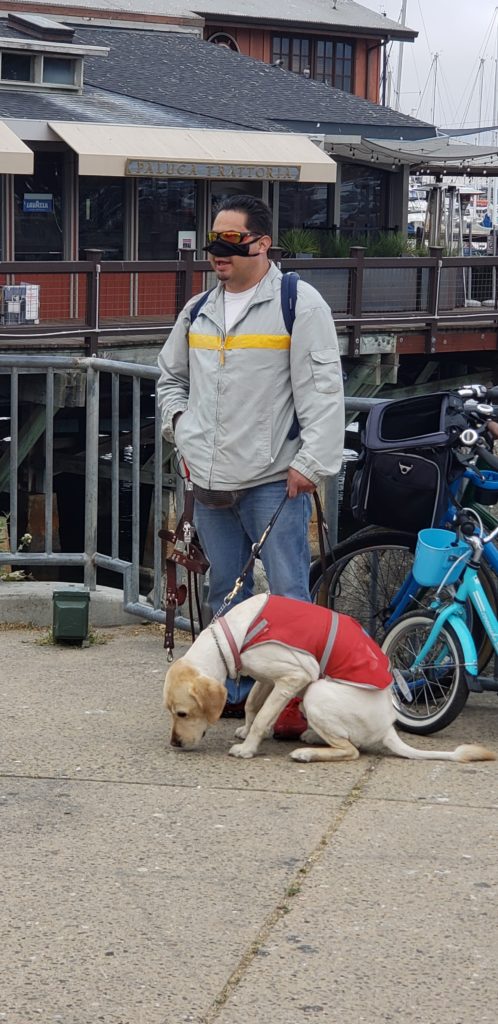 Young People Are Searching!
More young people are searching for spiritual truth than we often realize. Many mock the Gospel or seem hardened on the surface, but have grown up with little to no moral foundation, and are hungry for something real.  If you take a chance and reach out to the young people in your life, many will listen.  Here are a couple of recent examples.

Two in Santa Cruz Profess Christ
A few weeks ago when I was preaching near the Santa Cruz Beach Boardwalk a group of young men stopped to watch one of my sketch messages.  They interacted a bit, but when I got to sin and the law most of them moved on.  This isn't unusual.  But two stayed for the rest of presentation, even after their friends left, and afterwards, to ask more questions.  Both seemed to be be very impacted by the preaching.  We were able to pray for them, and both professed Christ, though they were not ready to pray out loud.  Please pray that God will continue to work in their hearts and draw them to Himself.


Very Excited About a Bible
Last Saturday at the Monterey Old Fisherman's Wharf was very busy, and it's so exciting to have people out and about more, and stopping to hear the preaching.  One young lady in particular stopped to ask a very important question: How can we win the daily battle with sin?  We talked about prayer and time in scripture, and we talked about being a member of a solid church and having believers around you to keep you accountable.  She also said the only Bible she has is in Spanish, and when I gave her an English ESV Bible, and she was so excited!  I got her contact information and want to continue encouraging her.  Please pray for her.

OAC Conference, the Ark and The Creation Museum, and an Encouraging Testimony
A few weeks ago we had our Open Air Campaigners Family Retreat and Conference in the Cincinnati area.  Becky and Melody were able to join me, and it was great not only to see other missionaries from around the country but to get to know their families as well.  It was a great time of fellowship and encouragement!One of the highlights of the trip came during out visit to the Creation Museum.  For those of you not aware, the Creation Museum is a museum run by the ministry Answers in Genesis, a ministry with a focus on defending the reliability of the Bible from the very beginning.  The museum is amazing, both in quality and content, and I would highly recommend it to anyone.  The most special moment came when we arrived and had a private presentation from Ken Ham, the ministry founder and president.  He told us that when he was a kid in Australia, his parents had financially supported Open Air Campaigners and our missionaries had stayed in his home.  He also shared that it was at an Open Air Campaigners meeting when he was 11-years-old, after hearing a challenge do whatever God calls us to do that he told God he would do just that, and that decision later led to the founding of Answers in Genesis.  What an encouragement! 
Million Dollar Bills Tracts – Tri-fold
I just re-printed a Gospel tract I wrote a number of years ago. It is a million dollar bill, a format popularized by Ray Comfort of Living Waters and now printed by many ministries. But this version is unique. Rather than being two-sided, it is a tri-fold pamphlet. That leaves room for larger text and a much more complete Gospel presentation. I have some pictures below. If you would like to get some for yourself, please let me know and I'll send you some.Not everyone like Gospel tracts that look like money, and not without reason. If they are used wrongly, they can seem deceitful and get people very angry. So there are certain ways I will not use them, and I'd encourage you not to do the following:
DON'T just leave them laying around.  I've heard personally from people who have been in tough financial situations, gotten a feeling of hope upon finding or being send what they thought was money, and then being angry when discovering what it really was.  Anger is NOT what we want people to experience when getting a Gospel tract, if we can avoid it.
DON'T leave them as a tip in a restaurant.  I often leave a Gospel tracts for waitresses, but for the reason above, I don't leave fake money.  And NEVER leave ONLY a tract as a tip.  Yes, the Gospel is the greatest gift ever, but waiters often depend on tips, and being fooled by fake money will not encourage them to read a tract.  If you leave a tract, be sure to leave at least a 20% tip. 
DON'T give money tracts to homeless folks.  Once again, see the first objection.

New Web Site and Blog/Podcast
The NorCal branch of Open Air Campaigners has a new website! Though both of us will continue to use our individual web sites for personal updates and projects, we now have a web site dedicated to the branch. It will have our contact information, our combined outreach schedule, and we are planning a bunch of new media content. We are starting a new series of audio and video blogs, which we will be calling Open Air Encounters. It will have interviews with other OAC Missionaries, clips from our monthly radio appearances, and recordings from the street that we will be sharing and eventually chalk-talking. We're excited about all the new possibilities, and hope you'll follow us and let us know how we're doing. Links to the site and our new YouTube channel are below. Please consider subscribing to both.

www.oacnorcal.org
https://www.youtube.com/channel/UCLK3dfJ5kIqw5zqHFWZLoxw

Praise and Prayer
Praise God for continued good street ministry, especially a local beaches and waterfront locations
Praise God for a good and encouraging OAC family retreat
Praise God financial provision for our family as we continue fundraising
Praise God for 25 years of marriage for Becky and I!
Please pray for people close to us who need to come to Christ
Please pray for good memory as I continue learning Spanish
Please pray for a kids club starting back up in East Palo Alto, another in the works in Salinas, and two Vacation Bible Schools I have scheduled so far this summer
Please pray for our monthly radio appearances and new radio opportunities that may be opening
Please pray for our new web site and video/audio blog that will be launching later this month
Please pray for a friend who is trying to escape the sin of alcohol dependence
Please pray I can reach full financial support so side work isn't necessary
Please pray for a new missionary who may be joining our team in the Bay Area
Hits: 22