Hello all!
We're moving through summer quickly, so I thought I'd send another update to let you all know what's been happening. God continues to keep me very busy, both with side-work and with ministry. The same is true for Brenten, my ministry partner. We are both thankful for side-work as well as the ministry, but we are both praying that God continues to bring in new supporters so the side-work can end. We also have a third man that God may be leading to OAC Norcal in the next year or so, so please pray for wisdom for him and his family as well. If you'd like to meet and talk about joining our support team, please let me know. I'd love to share what God has been doing in more detail.
Painting in the Park
I spend a lot of time out on the road, since I'm frequently doing work and ministry on the same days or visiting more than one ministry location per day. Since I want to make the best use of my time, I've started going to local parks to prepare my ministry paintings instead of driving home, praying that God will bring me conversations while I'm out. And He has been doing just that!
Last week I stopped at a park near downtown San Jose to paint what we call a static sketch. It's designed to grab people's attention as they walk by, instead of giving a message like many of our sketches. As I was painting I saw an African gentleman (I could hear the accent) walking through the park talking on his phone. I prayed that I'd get a chance to talk to him and a few minutes later, when I didn't hear him talking anymore, I turned around to see him sitting a few tables away watching me paint. I said hello and he asked me what I was doing. I explained my ministry work, and we had a very pleasant talk during which I was able to share the gospel with him. Another young man also walked up while we were talking, stood at a distance, and listened for a while, though he left before I could talk to him. Afterwards I gave the African man a business card and he's sent me text messages a few times since. He even asked for a picture of my completed sketch, which is below. Please pray that the Lord will work in his heart, and as I continue to paint in local parks that God will continue to bring such divine appointments.
VBS in East Palo Alto
I've been praying for more kids ministry opportunities for a while, and it's been tough since Covid shut down the school were I used to do my weekly teaching. But so far this summer I've been able to do 2 vacation Bible schools in East Palo Alto, and I'm excited about future possibilities there. EPA is a poor neighborhood, which means more people packed into less space, perfect if you want to gather a crowd of kids.
During one of my weeks there I was interviewed by a couple folks from Bayshore Christian Ministries, the group I've been working with there, and they did a much better job than I could talking about the VBS and how it went. Check out the link below.
https://www.bayshore.org/post/vbs-in-heaven
New Radio Show!
For the last several years Brenten and I have been regular guests on a local radio show called Flight 1080 (an afternoon drive show) almost every month. Now their station, KSCO Radio, has given us our own weekly show! Every Sunday morning at 11AM we'll be talking about God, the Bible, and the Gospel, as well as dealing with the most common objections to the Christian faith. It's a pre-recorded show, so we won't be taking live calls, but we are asking people to reach out with feedback and questions. You can reach us on our new website, www.oacnorcal.org (my old website is still active too) to send a message. You can listen to the show there too, or find it under Dwell On Truth on the podcast app of your choice. I hope we'll hear from you, and please spread the word about the show, particularly if you're local.
(Note: We're also looking for local advertisers, so if you or someone you know was a small business, let us know and we can put a radio add together!)
www.oacnorcal.org
The Dwell on Truth Show – Episode 1
KSCO Radio
Praise and Prayer
We are praising God for continued good street ministry
for two very good Vacations Bible Schools in East Palo Alto
for financial provision for our family as we continue fundraising
Please pray for people close to us who need to come to Christ
for good memory as I continue learning Spanish
for kids clubs to start up again in the Fall
for our new weekly radio show
for a friend who is trying to escape the sin of alcohol dependence
that we can reach 100% support as quickly as possible.
for a new missionary who may be joining our team in the Bay Area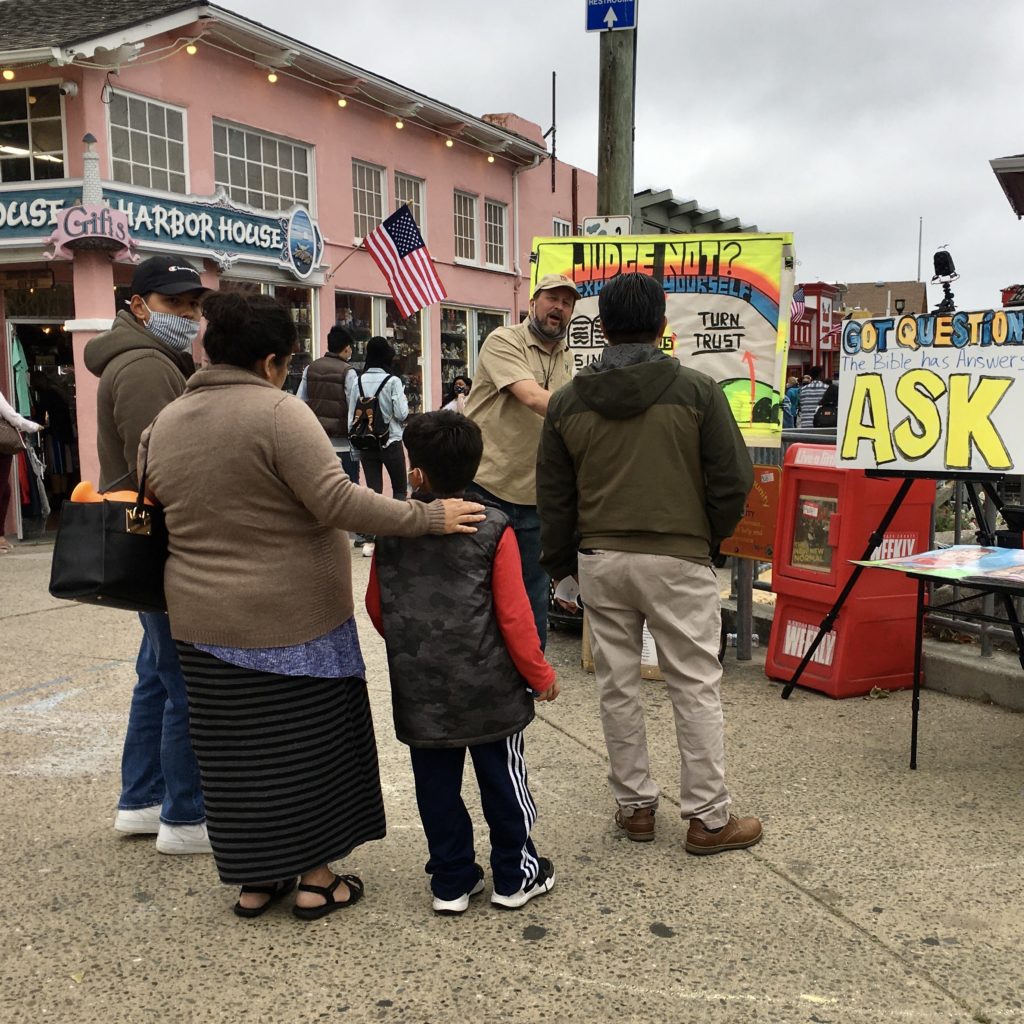 Hits: 38