Ministry Update
Hello all! Thanks for taking the time to check in and see what's going on with our Silicon Valley/Bay Area ministry. I've shared some encouraging stories, upcoming activities and outreaches, pictures and prayer requests below. Feel free to pass them on to anyone you think would be interested.
Also, please do consider supporting us. I have often been working nearly a full ministry schedule, and we are nowhere near full support (only about 50%) and all expenses are out of pocket, so we could really use your help. For those of you who have given, thanks so much! For the rest of you, please let me know if you'd like more info, or want to sit down and talk, or you can simply donate at the link below. Hope we hear from you!

SUPPORT

Kids Bible Club
I love teaching my weekly kids Bible club! It amazes me how well some of the kids pay attention, and how much they remember. I try to really take my time to make sure there is real theological depth to the lessons, especially including the nature of God, the reality of sin, the saving power of Jesus's blood, and the truth of the Bible. For some of these kids it's the only church they have, so those details matter a lot. Of course, I don't do this alone. The club is sponsored by a local church, and Debbie, who is on staff there, organizes the volunteers, does the music, decides the flow of the lesson plans week to week, and takes care of all the little details. We also have about a dozen other leaders who help wrangle the kids and spend small-group time with them after the lessons digging deeper. My jobs are the game time and the Bible lesson itself. It's a great team to be part of, and we have a great group of kids too. What a joy it is to share Christ with them!
Just for fun, I decided to give a little picture of how I prepare my lessons. Generally, there is a subject or passage of scripture that is the focus. For the lesson below, which is from last week, it was the story of the Prodigal Son. At the beginning of the week I'll usually read the passage or study the topic in question, then go through a couple commentaries and maybe a couple videos so I make sure I have a good grasp on the Biblical meanings. Next, I'll brainstorm main points, rough out a sketch, and do a basic presentation outline. Finally, usually the morning of the club, I paint up the sketch and review the presentation, so I'll be well prepared. Then, it's club time! I'll present the message (often with an object lesson, such as the one below, dealing with "pet" sins), answer questions and pray with the kids before their group times. It takes time to prepare, but what a joy! I'm praying for at least one more club in my schedule. Please pray with me.
Radio Ministry
I've mentioned this a lot in recent updates, because this continues to be an exciting and growing part of my ministry. This month, and possibly going forward, Brenten and I will be on twice! It seems like each show is better, and we are getting more and more calls and more and more opportunities to share the Gospel. Brenten has also done a great job of taking some of our best segments and sharing them on his podcast, Dwell on Truth. I've posted some below. I'd encourage you to listen, and we'd love to get your feedback too. We want to make the best use of our time.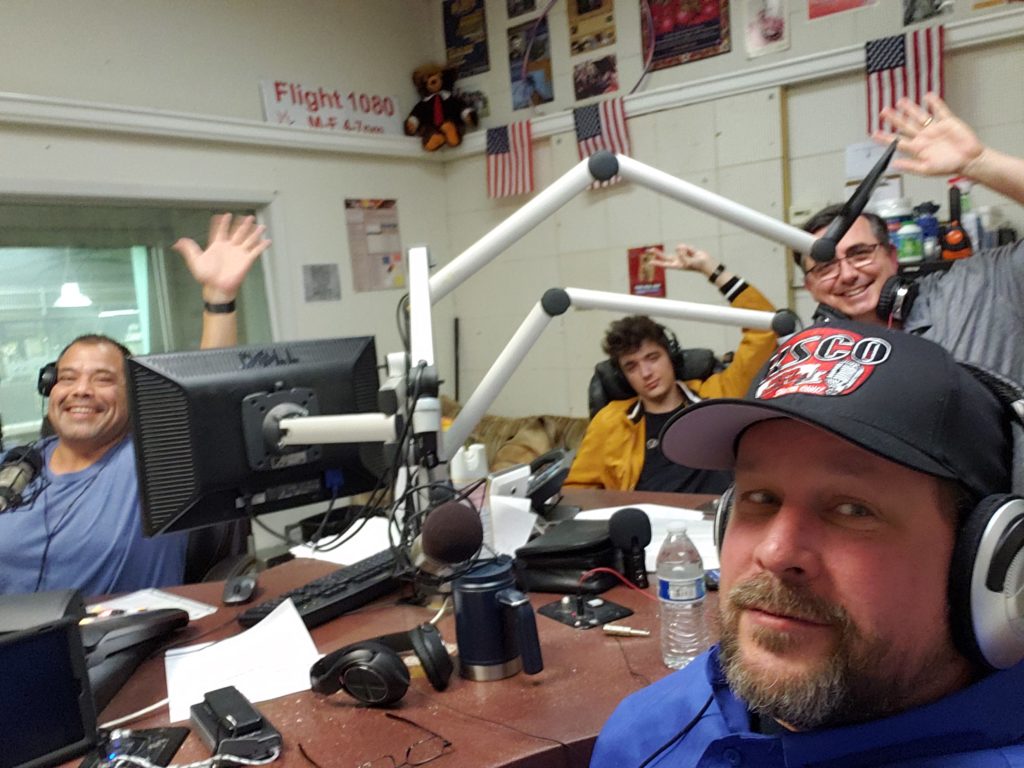 Dwell on Truth Radio Shows (from the Flight 1080 Show):
Truth: The Gospel vs. the JW Cult
Q&A: Why Street Preach? Faith vs. Works Based Religion
Q&A: The Unforgivable Sin? Bad News
Evangelism Q&A: Who is Jesus? Is He Unique?
Also, we're always looking for got show topics when we are on the radio (the Flight 1080 Show on KSCO, 1080 Santa Cruz), and I'd love to hear your ideas. What questions do you have? If you are a believer, what questions have you been asked by non-believers? Send your ideas to dan@yoursoulmatters.org, and who knows, you might hear them discussed on the radio! Also, you may have seen the What Abouts page on my web site (yoursoulmatters.org), which has answers to commonly asked questions. If I get good questions not only may they end up being discussed on the air, but I will work on collecting resources and posting them there. There is a ton of information in the form of articles, lectures and videos that I've collected from a number of solid Christian ministries that should help build your faith. Our next show is next week, on the 11th, so please, send your questions my way!
Plans for 2020:
I'm still finalizing outreach plans for the rest of 2020. I'll be sending out monthly schedules as usual, but I'd like to get all my bigger events, such as art and wine festivals and conferences, onto the calendar as soon as I can. I'm praying for more kids ministry, more mall ministry, and more church partnerships. So, if there is a way I can be an encouragement to you or your church, let me know soon so I can add you to the schedule. Take a look at the ideas below.
Kids Ministry: I'm available for special outreach events, community festivals, and to help with the teaching at your church VBS
Art and Wine Festivals: This is a great way to help your church reach the local community. Setting up an outreach booth is easier than you think, and I can help
Mall Outreach: This is another great way to reach your community, and an opportunity that is unique to California. Let me help set up some outreach days for your church members.
Teaching and Training: I love to teach and mentor other believers in evangelism. Whether it is with a congregation on a Sunday morning, during a Bible study, for a youth group, or one-on-one, if you need someone to help folks step out in faith to share Christ, I'd like to help.
OAC Intern
Finally, I have a young man coming to spend time with me in ministry for the last third of March, and then the middle of April. He is considering full-time ministry with Open Air Campaigners and is staying with missionaries around the country. Unfortunately, our house is not big enough to accommodate an extra person (particularly not with two young daughters), so I am looking for folks who would be willing to host him for some of the time he is here. If you are interested, please let me know.

Recent Pictures:
OUTREACH SCHEDULE
Morgan Hill Kids Bible Club – Thursday, February 6th, Afternoon
Cupertino Farmers Market Outreach – Friday, February 7th, 9AM to Noon
Redwood City Outreach – Friday, February 7th, 6PM to 9PM
Monterey Waterfront Outreach – Saturday, February 8th, 11AM to 3PM
Flight 1080 Radio Show – Tuesday, February 11th, 4PM to 7PM
UC Berkeley Outreach – Wednesday, February 12th, 11AM to 2:30PM
Morgan Hill Kids Bible Club – Thursday, February 13th, Afternoon
Cupertino Farmers Market Outreach – Friday, February 14th, 9AM to Noon
Santa Cruz Downtown Outreach – Friday, February 14th, 6:30PM to 9:30PM
Downtown Palo Alto Outreach – Saturday, February 15th, 6PM to 9PM
East Palo Alto Kids Club – Wednesday, February 19, 1:30PM to 3PM
Cupertino Farmers Market Outreach – Friday, February 21st, 9AM to Noon
Mountain View Outreach (Or new location) – Friday, February 21st, 6PM to 9PM
Great Mall Outreach – Saturday, February 22nd, 11AM to 3PM
San Jose State Outreach – Wednesday, February 26th, 11AM to 2:30PM
Flight 1080 Radio Show – Wednesday, February 26th, 4PM to 7PM
Morgan Hill Kids Bible Club – Thursday, February 27th, Afternoon
Cupertino Farmers Market Outreach – Friday, February 28th, 9AM to Noon
Santa Cruz Downtown Outreach – Friday, February 28th, 6PM to 9PM
Downtown Palo Alto Outreach – Saturday, February 29th, 6PM to 9PM
Hits: 0